The price of interest rates on home prices
It is not a secret that interest rates are on the rise. This has caused a lot of people to shy away from buying a home, causing the Great Deceleration. However, it is important to look at how interest rates affect home prices and the real costs involved.
During the real estate boom from mid-2020 to early 2022, we saw home prices increase 24-28% on average locally. The inventory was at an all-time low and the demand was insanely high. The majority of homes saw multiple offers and bidding wars within hours of being on the market. When interest rates spiked, the demand suddenly disappeared. Buyers were scared of the impact the increased rates would have on their monthly payments. However, there was one aspect that wasn't considered… the actual cost. 
Do higher interest rates give you less buying power?
The easy answer is YES. Higher interest rates do reduce your buying power. Experts say that higher rates will negatively impact home buyers because they can no longer afford as large of a mortgage. 
Using Google's standard mortgage calculator, if you budget $2000 a month for your mortgage (principle and interest) at a 3% interest rate, you can afford up to a $475,000 loan amount. It is important to understand, that this is the loan amount, not the purchase price. Depending on how much the borrower is applying to the down payment will change the amount of the monthly payment. 
With the increase in interest rates, in order for a buyer to maintain the same $2000 monthly budget, their loan amount could not be more than $360,000 with a  5.5% interest rate. That is a loss of $115,000 in buying power. 
But how does the increase in interest rates affect home prices?
Like I said above, the easy answer is Yes. But interest rates are not the only factors involved in today's housing market. 
Let's look at a real-life example of how rates and home prices can affect a buyer's monthly mortgage payment. 
During the craze of the last two years, we have seen bidding wars causing buyers to literally throw money at a house in order to get it. Interest rates were so low, it was like money was free so why not? 
I had a buyer interested in buying a $450,000 home during this time. The listing agent held open houses on Saturday and Sunday. By Monday, she had over 40 offers! The home ended up selling for $550,000! 
Let's look at the numbers
$550,000 sales price at 3.5% interest rate equates to a monthly mortgage payment of $2470 (principal and interest only, not taxes and insurance). 
That same house in today's market priced at $450,000 with a 5.6% interest rate would equate to a monthly mortgage payment of $2586. That is only a $116 difference. 
However, in today's market, the $450,000 home doesn't sell in the first few hours and buyers are not in bidding wars. Today the home might sit on the market for a few weeks. Most importantly, when this happens, the seller is ready to negotiate. 
Now a buyer can purchase the $450,000 home for $425,000. If you look at a 5.6% interest rate on a $425,000 purchase price, the monthly mortgage payment would only be $2440. This is $30 less than purchasing the home with a 3.5% interest rate!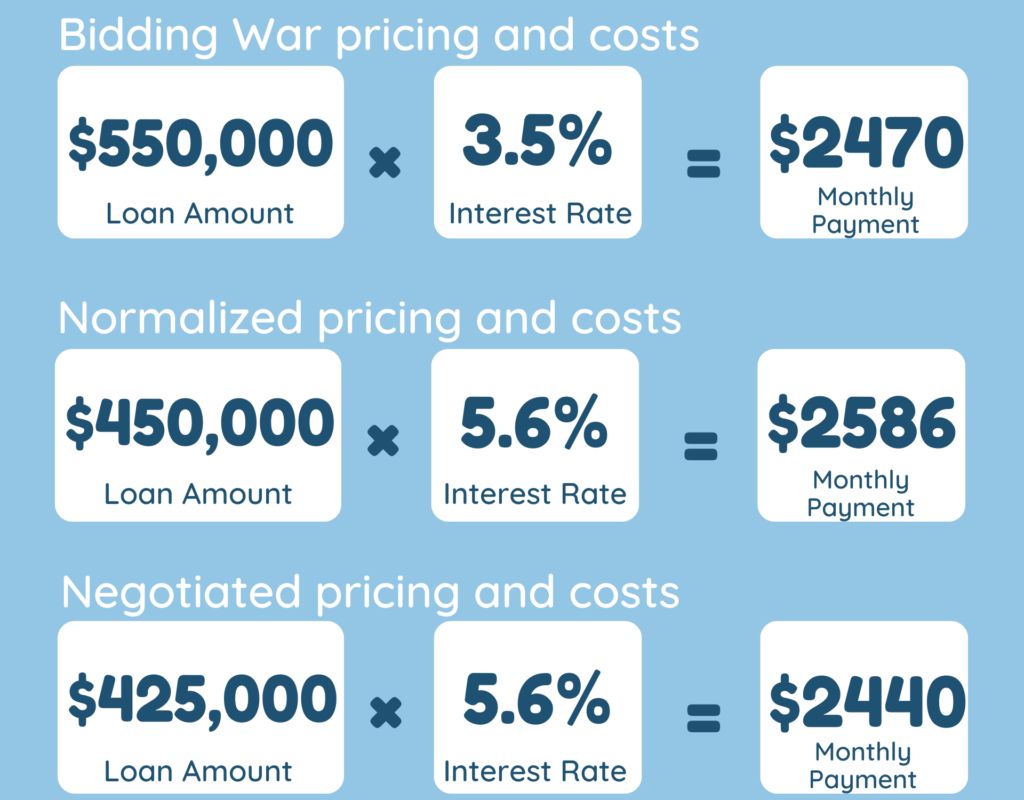 Does this mean home prices are going to decrease?
It seems logical that home prices would start to decrease. Yet, things are never as simple as they seem. It is all about how you read into it. 
In our post about the Great Deceleration, we referenced a slow down in the rate of home price growth. This is referring to "list prices" not "home values" – a very important differentiation.
Gone are the days of "testing the market" to see how much someone would pay for a home. Sellers can no longer price so far above comparable home sales in their area. Buyers are rejecting prices and we are seeing more price decreases. Reality is setting in. 
Should you put your real estate goals on hold with the increase in interest rates?
The recent increase in interest rates to curb inflation has caused many people to place their real estate goals on hold. Sellers are worried they are not going to get as much for their homes. Buyers are afraid they are going to pay too much. It is a tug-of-war that has caused the real estate market to drastically slow down. 
Reality check-
If you are selling your home you are still seeing 10% year-over-year gains. That is awesome! Pricing your home competitively is important. Also, you may consider offering incentives. These are something we haven't seen in a few years but are very attractive to buyers. 
If you are buying a home understand you now have negotiation power. Ask for incentives! Closing costs and pre-paid expenses are a great way to keep more money in your pocket. Check with your lender to see what the difference in mortgage payments will be. Is it still within your budget?
A Realtor with knowledge and experience in different housing markets can help guide you. Don't wait until you are ready. Let them help you get ready. 
At YES-HOMES we have over 20 years of experience helping sellers and buyers in the Tampa Bay market. We take a consultive approach to understand our client's needs. If you have questions, we may have the answers. Contact YES today to help you understand how the increase in interest rates impacts your home selling and buying goals.