When you are in real estate, everyone wants to know "will home prices drop in 2023?" Like so many in the past, this housing market seems highly unusual and unpredictable. But is real estate really unpredictable? Will the increase of interest rates cause home prices to drop? Let's find out.
The Covid Boom of the real estate market
We are definitely experiencing a cooling-off period from an unparalleled high that could not have been sustained. The covid-era of real estate was an unexpected BOOM! The world had shut down and all of a sudden people were desperate to buy a home. 
The ability to work from home opened the floodgates for people to move wherever they chose. Commute times were no longer a driving decision on location. Some people moved closer to family, some moved for political reasons, and some moved to their dream destinations. 
The economy was in major flux and toilet paper was the commodity of choice. The unknown conditions caused interest rates to hit historical lows. 
Enter the Millenials.  A major population with an estimated 82.2 million in the US is now of home-buying age combined with a 3% interest rate and only 3% down as first-time home buyers, they flooded the market. 
A different type of home buyer
Millennials mass population upset the housing market in more ways than one. 
Since the Great Recession of 2008,  new construction housing starts in the United States haven't recovered. Fast forward 15 years of suppressed new home construction that hasn't kept the pace of the population growth and you will understand the housing shortage we've been experiencing.  
A sluggish market for inferior homes
The over-hyped real estate and stock markets of the pandemic are coming down off their highs, causing many investors to run for the hills. During booming real estate markets, fix-and-flip investors show up in droves. They put an HGTV shade of lipstick on the pig and sold the houses for huge returns. 
Now the housing market has settled down, the fix-and-flip investors are unable to earn their large margins. The majority of them have left the game. The market has been left with less desirable homes. These outdated homes are not attractive to today's home buyers. Also, when you work from home, you are unlikely able to have a full home renovation happening in the background of your Zoom meetings. 
If I had to define the current market conditions, I would say it is a crappy market for crappy homes. It is not sophisticated terminology but it is our current situation. If you have a home that is cluttered, outdated, and in disrepair, expect it to sit on the market longer than average. 
We are seeing many of these homes drop their listing price trying to appeal to today's buyers. List prices are dropping because sellers (and their Realtors) are still hoping for the market of 2021. However, that market is gone and the homes are not bringing absorbant year-over-year gains as they did in the past. 
Will home values drop in 2023?
It is no secret that the market has cooled.
Recession
language has been in the headlines for the past several months.  After years of extremely low-interest rates (a.k.a free money) and a period of literally mailing free money, the US economy is fighting the
battle of inflation
. 
An increase in interest rates combined with housing price highs, caused a large number of buyers to pull out of the home-buying stage. So, where does this leave home prices in 2023?
If you are a doom and gloom reader, this information might not appeal to you. However, after stepping down from the roller-coaster, we found ourselves on level ground (for the moment). 
Tampa-St.Pete-Clearwater ranked #1 on the hottest real estate markets in 2022.  The chart below is of Pinellas County, which is comprised of St. Pete and Clearwater.
The chart looks at the monthly average absorption rate for single-family homes. The absorption rate is a measure of the number of homes listed and sold within a given period of time. Simply put, it is a measure of supply and demand for the housing market.
The average annual absorption rate in 2019 (pre-covid) was 43%, meaning 43 out of every 100 listings sold. In 2021 the annual absorption rate grew to 148%! Obviously, this was not sustainable.

The current absorption rate in 2022 has come down from its high in March of 244%. We are now trending back to a normal rate. The chart below shows historic absorption rates. 

What about interest rates?
I hate to be the bearer of bad news but interest rates at or below 3% aren't realistic longterm. I'm grateful for the run of low-interest rates as it helped a multitude of qualified buyers move into home ownership. 
Interest rates are actually getting close to their historic average of 7.76% (per Freddie Mac looking at rates from April 1971 to October 22). 
We are now on the shock-factor rollercoaster. This ride will soon come to an end as well.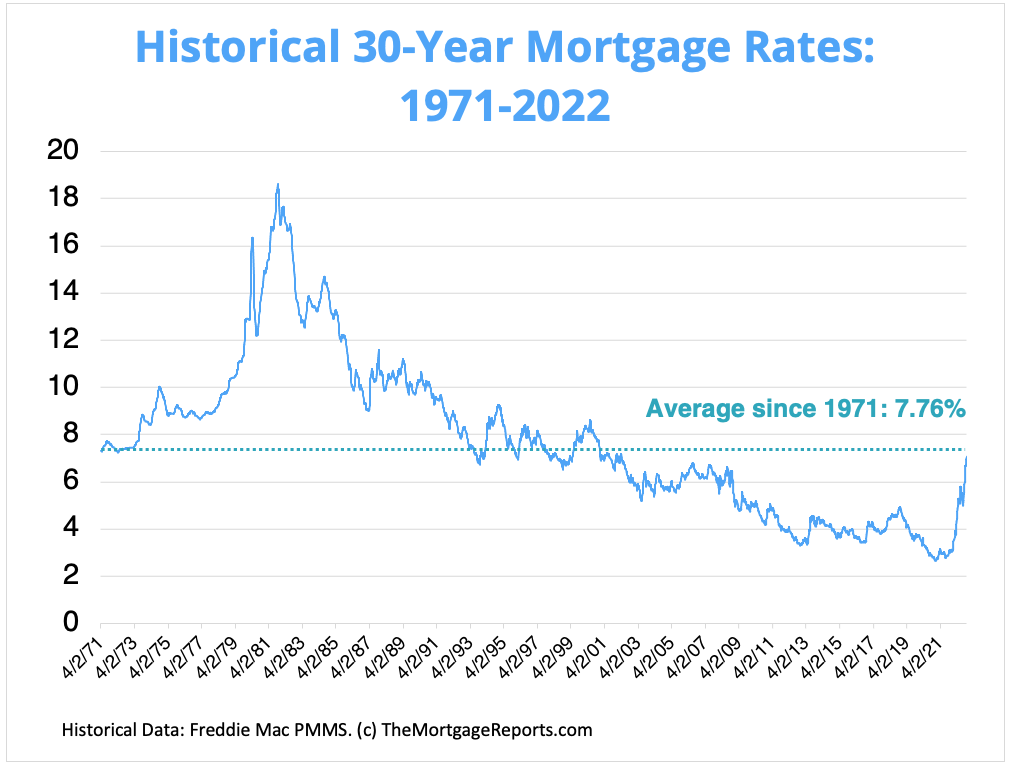 Hot market for quality homes
What is selling? It is still a hot market for quality homes. Homes that meet the standard of HGTV ready are still selling. These are homes in a great location, remodeled, staged, clean, and priced right.
True luxury homes are also a hot commodity. Quality, design, location, and ease of living define these homes. 
Buyers want high ceilings, manicured outdoor space, eye-catching design elements and lots of space for work, entertaining and family time. Currently we are seeing an unusually large gap among desirable homes and all the rest. Prices for these quality homes are not being negatively impacted by the market conditions. 
The housing industry has drastically changed and so has the consumer. A home is now, more than ever, expected to be a palace. If the consumer can't get what they want for the price they want, they are not buying. This has caused a significant increase in the number of custom homes built over the past few years.
What else can you expect for home prices in 2023?
Expect to see slow but continued new construction of custom built homes.
If you are selling your home, a major refresh is not an option, it is a necessity.
Creative financing options are available. More lenders are offering "buydown" programs for interest rates. Seller financing is another great option.
The shock factor will subside. Consumers will get tired of paying exorbitant rental rates and start looking to buy again.
The days of 25-28% year-over-year increases of housing values are gone. Expect a more modest annual gain of 3-5%.
Negotiations are happening again. During the run of multiple offers and high demand, buyers didn't have leverage. Now home buyers can, and should, negotiate on everything from price to repairs, and closing costs.
You are now entering into a normal real estate market. Please remain seated and keep your hands and feet inside the ride at all times.
This article was researched and written by Rachel Sartain Tenpenny, partner of YES-Homes Real Estate Group. Rachel has over 20 years of experience in the real estate industry as a sales professional, manager, broker, trainer, and business coach. 
Click here to contact Rachel for more information.